Fishing offers  the chance to enjoy nature's splendor. But for many, the most fun is found in the catch. Thanks to North Carolina's aquaculture farmers, there are places where that's guaranteed.
Fish are farmed across North Carolina, from trout in the West to catfish, hybrid striped bass and crawfish in the East, to shellfish on the Coast. About 200 families count on it as part of their income, and it adds about $25 million to the state economy, says North Carolina Department of Agriculture & Consumer Services, who oversees product quality and organizes support for the farmers who undertake it.
The majority of farm-raised fish end up at local grocers — aquaculture produces about 15 percent of the fish and shellfish that Americans eat. But some are available fresh at the farm, if you're willing to catch them yourself.
North Carolina's cold mountain water supports a number of trout farms. Some of those that specialize in trout for private stockings have "catch-out ponds," where you can fish with a rod and reel. Count Buck Creek Trout Farm in Marion among that group.
You can fish Buck Creek's pond from April through October, except Mondays. Its trout are hatched from eggs onsite and mature in raceways — concrete troughs filled with flowing water — until they're large enough to be sold or caught.
These trout are always biting, making catch-out ponds a great place for beginners and young anglers. You don't need a North Carolina fishing license or even your own equipment. Buck Creek, like most catch-out ponds, provides rod, reel and bait, usually small worms or kernels of corn. And the friendly staff members will help you cast, land and unhook your fish. They'll even clean them and pack your cooler with ice to bring them home, for a small fee.
Most catch-out ponds allow you to keep all the trout you want, but you'll pay for them by the pound. Whatever you spend is a good investment. Fish is rich in protein and nutrients but low in fat, calories and cholesterol when compared to other animal proteins. And it tastes great, especially smothered in lemon slices, butter, salt and pepper and roasted in the oven or wrapped in foil on the grill.
These catching spots aren't limited to the Mountains. You'll find another at Lowry's Fishing Farm in Rowland, where five ponds stocked with largemouth bass, crappie, bream and catfish cover about 100 acres.  Two of the ponds are catch and release. Fish caught from the other three can be kept, providing the main course for your next fish fry.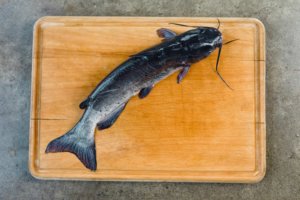 A fishing license isn't required here either, but you'll need to purchase a daily or annual membership at nearby Lumbee Outpost. Both allow anyone younger than 12 to fish with you for free.
You'll be a bit more on your own than at a catch-out pond, so a little fishing experience will be helpful. A simple spinning or spin cast rod and reel, line, bobber, weight, hook and bait are all you need to start catching.