Brown Creek Creamery, a small family farm in the Anson County town of Wadesboro, is one of the state's few that milks cows and makes cheese in the same building. Every Saturday, its farm store's doors open, offering you the chance to sample and purchase its dairy products and meet the people who make them.
North Carolina's cheesemakers are tucked in valleys and along narrow country roads across the state. Many are stops along the North Carolina Cheese Trail, a roadmap of almost 30 cheesemakers and outlets that boast restaurants, shops and wineries. You'll leave with delicious memories and a better understanding of where your food comes from.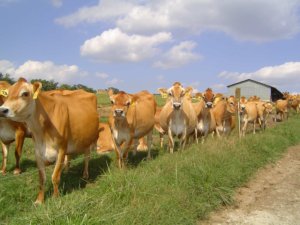 While a few of these cheesemakers are not open to visitors, many welcome visits by appointment to make planning a day along the trail even easier. Those that don't accept appointments, like Brown Creek, keep regular hours so you can still plan your trip in advance.
Brown Creek's cheese is considered farmstead because it's made from milk collected onsite — it milks a herd of 16 Jersey cows, a breed that produces higher butter fat milk that's perfect for making cheese — rather than purchased, as is the case with artisanal cheese. Both can use different types of milk and flavorings. Brown Creek makes a variety of cheese, including mild and sharp cheddars, queso fresco, Creekside — its version of a Colby — and cheese curds, the salty nuggets that are vital to Quebec's beloved dish, poutine. Depending on the day, butter, fudge and soft-serve ice cream are available, too.
Follow the trail straight north from Wadesboro, and you'll find 34-acre Buffalo Creek Farm & Creamery in the small community of Germanton, not far from Winston-Salem. Its owners, Robin and Johnny Blakley, also make farmstead cheese, but they use goat milk.
The couple opened its farm store in 2011. Stop by any day, and between sampling and purchasing cheese, goat-milk soap or locally made foods and crafts, watch the virtual tour of the creamery, which is below the store. It will give you a better understanding of the traditional techniques they use and how local feed, climate and naturally occurring microbes combine to give each farmstead cheese its own unique flavor.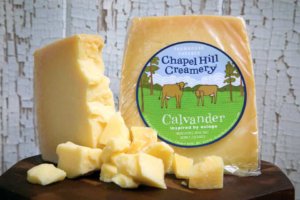 Many cheesemaking operations are family run. Visit Holly Grove Farms in Grantham, not far from Goldsboro, and you're likely to run into Craig family members spanning three generations, including matriarch Debbie, who took the farm's reins after her husband passed away in 2009.
Holly Grove makes its farmstead chevre — a soft and fluffy cheese that resembles cream cheese but with about a third of the fat and calories — from goat milk. The mature members of its 1,000-goat herd produce about three-quarters of a gallon daily, enough to make about 1 pound of cheese. It's available at the farm's gift shop, which is open Saturdays. Call for an appointment if you'd like a more in-depth tour.
You can explore Got To Be NC members who make or produce cheese on site here.