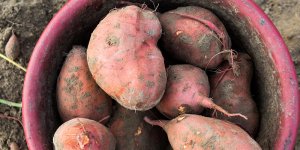 October Outlook For NC Produce. October is here, and in the northern hemisphere, that often means the days are flush with falling leaves, chilling weather, and growing anticipation for the holiday season. There's no better month of the year than October to enjoy the vibrant colors of the leaves, whether you take a scenic drive or head off for a weekend vacation to get the full effect of the fall foliage.
This time of year, you will see crews out harvesting peanuts, sweet potatoes, cruciferous vegetables and Christmas trees at the same time you will see other crews out planting strawberries for next spring's harvest.
You'll also see an abundance of vegetables. Among these vegetables are beets, bokchoy, broccoli cabbage, collards, indian corn, kale, napa, peanuts, pecans, radish, pumpkins, romaine, snow peas, spinach, sweet potatoes and turnips.  Fruits to look for are apples, muscadine grapes, raspberries and a few melons still being harvested.
If you're looking for farmers that can supply truckload lots of any of the above items, you can find them at NC Fresh Link and our Got To Be NC Find Local Directory. To see what's in season, please consult our Produce Availability List. For up-to-date information and availability always contact your local grower.
Get out and enjoy the leaves and cooler weather and checkout your North Carolina produce!