About a dozen miles northwest of Asheville, there's a 500-acre home where buffalo roam, and the elk and Watusi cattle play. It's Dr. King's Farms, one of a handful of ranches statewide raising the animals more commonly called buffalo and associated with the Great Plains.
About 300 years ago, bison actually roamed much of North Carolina. But less than a century later, only one was believed left, the rest victims to over hunting and habitat loss. A historical marker at Blue Ridge Parkway Milepost 373 — just north of Asheville — shares its last location and tale. They live on in community names, including Randolph County's Buffalo Ford, where bison were reported to have regularly crossed Deep River.
Today, North Carolina bison are farm raised for their meat, a healthier alternative to more popular animal protein choices. Carolina Bison's owner, Dr. Frank King, first saw the benefits when he began prescribing bison meat to his patients, who reported fewer digestive issues, more energy and other benefits. The meat is rich in vitamin E, omega-3 essential fatty acids and protein. The USDA says bison has about a third of the grams of fat, almost three times as much iron and fewer calories than skinless chicken.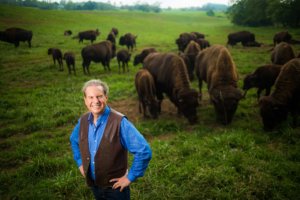 Personal introductions to Carolina Bison's herd are available by booking a spot on one of its guided tours. Sturdy wagons pulled by tractors will take you across the farm's rolling hills. You'll have a chance to hand-feed the long-horned Watusi and bison. And everyone, especially the youngest guests, enjoy getting close to the camels, donkeys and other animals kept on the farm. The tour goes rain or shine, so be prepared with either a jacket or sunblock.
Along the way, the farm's knowledgeable guides will explain the animals' care. They freely graze on non-GMO pasture grasses during summer, switching to non-GMO hay from the Dakotas during winter. Mountain spring water is included in their diet but hormones, antibiotics and stimulants aren't.
It's easy to add bison, elk or even yak to your next meal. The USDA-inspected meats are available at the farm and select butchers and grocers, including North Carolina-based Harris Teeter. You can even mail order it. Most preparations used for beef work well with bison. But be careful. Its lack of fat means it's easy to overcook.
If you'd like to see and taste a finished bison dish before attempting your own, head to nearby Asheville after your tour. You can choose from several restaurants that serve Carolina Bison for lunch and dinner.
Bison burgers are a great introduction. Their consistency and presentation are similar to beef burgers, allowing you to focus on the flavor, which is slightly earthier. Juicy Lucy's Burger Bar and Grill, for example, will make any of its more than a dozen specialty and made-to-order burgers with bison.
If you're in the mood for something more complex, try the bison hanger steak at Red Stag Grill, inside the Bohemian Hotel in Biltmore Village. Or head to farm-to-table restaurant Ambrozia. Its bison short rib bourguignon is served with local mushrooms and a Brandy jus.
Learn more about Dr. King and the Carolina Bison Company on our site here.